EnviroBuild is leading the sustainable revolution in the construction industry and
beyond.
Our vision is to lead the sustainable revolution in the construction industry and beyond. We're working toward this vision by never compromising on quality or sustainability, reducing embedded carbon in products where possible and also by donating 10% of all profits to sustainable causes.
As part of our ongoing Life Cycle Assessment, EnviroBuild are delighted to announce our Hyperion® Composite and Sisu LVT ranges have switched to being produced using wind power. This means that going forward both Hyperion® Composite and Sisu LVT products will run on 100% renewable energy.

Moving production over to renewable energy where we can.
We strive to be market leaders in the use and promotion of recycling materials. Our Hyperion® Composite products have up to 90% recycled HDPE plastic and wood content, Manticore lumber uses 100% end of life recycled plastics, MESA® Support pedestals are made using 90% recycled HDPE and PP plastics, Galleon rattan weave uses 90% recycled PE plastic, Luxury Italian Porcelain is engineered with 40% recycled aggregate content, Sisu Laminate flooring is constructed with 72% of recycled wood to make up its backing material. We have also looked where possible to increase the use of recycled materials in accessories and packaging.

Long lasting products with the highest possible recycled content.
Under our 10% pledge, every year EnviroBuild donates 10% of profits to sustainable causes to protect endangered biodiversity and help become a carbon negative business. A 10% Pledge: One tenth of profits go to sustainable causes.
Read More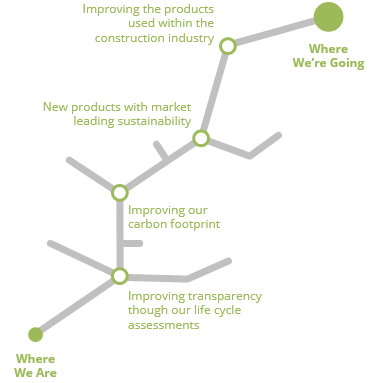 Our future roadmap
Driven by our environmental mission, we aim to be industry leaders in the world of sustainable construction, encouraging the industry as a whole to follow suit.

We have a dedicated product development team that focus on green innovation with the ultimate aim of establishing a closed loop across all products. In close collaboration with suppliers, we continually work to improve the product range so we can offer market leading solutions for performance, quality and environmental standards.
Read More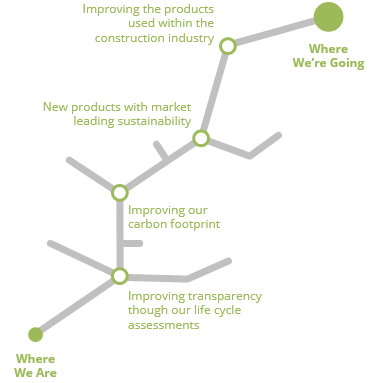 Sustainability Blog Posts
See Our Impact
That's more than
150,000
per week
20,000
per day
900
per hour
48 million
trees protected
and counting
Supported by our 10% Pledge donations
See Our Impact
That's more than
150,000
per week
20,000
per day
900
per hour
Find Out More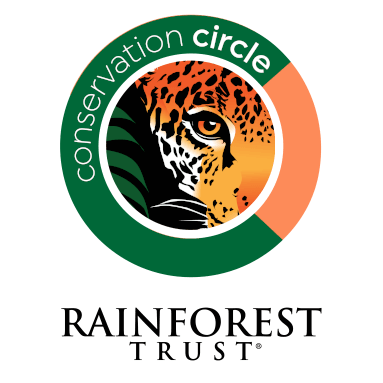 Our partnership with Rainforest Trust.
Rainforest Trust is a non-profit charity that helps to preserve Earth's remaining primary rainforests and marine sanctuaries through community engagement and local partnerships in vulnerable areas around the world. Rainforests are the pinnacle of life's variety and complexity, and are the most diverse places on our planet, however, an average of 200,000 acres are destroyed every day.

Rainforest Trust focus their efforts around three main protected area types; land acquisition, land designation and community-managed areas. Since starting donations in 2016, we have donated towards a wide variety of Rainforest Trust projects with 100% of all donations going directly to the project on the ground.
Find Out More